---


8th Place is: The Chicago River

In t

he 1770s, Jean Baptiste Pointe du Sable built his farm on the northern bank of the river near Wolf Point, the first non-Native American settlement of Chicago, and early in the next century Fort Dearborn was built on the southern bank of the river.

In 1900 the river's flow was reversed in order to keep Lake Michigan clean. In 1915, the Eastland, an excursion boat docked at the Clark Street bridge, rolled over, killing 812 passengers. In 1928, the South Branch of the Chicago River between Polk and 18th Street was straightened and moved ¼ miles (400 m) west to make room for a railroad terminal (more...)
---
9th Place is: Millennium Park



It was Mayor of Chicago Richard M. Daley's ambitious idea to realize that which was originally designed as part of Daniel Burnham's Plan of Chicago, a plan for the future of Chicago created in 1909.

Planning began in October 1997, construction began in October 1998 and it was finally completed in July 2004. Millennium Park was opened in a ceremony on July 16, 2004 as part of a three-day celebration that included an inaugural concert by the Grant Park Orchestra and Chorus. 300,000 people took part in the grand opening festivities.

Since then, Millennium Park has become the one of the most fashionable residential addresses in the city (more...)
---
10th Place is: Chicago Blues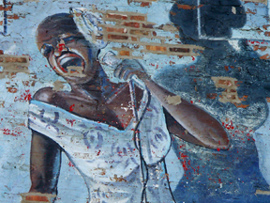 The Chicago blues is a form of blues music that developed in Chicago, Illinois by adding electrically amplified guitar, drums, piano, bass guitar and sometimes saxophone to the basic guitar/harmonica Delta blues. The music developed mainly as a result of the "Great Migration" of poor black workers from the South into the industrial cities of the North such as Chicago in particular, in the first half of the twentieth century.

Chicago Blues has a more extended of pallete of notes than the standard 6 note blues scale, often notes from the major scale are added which gives the music a more "jazz feel" whilst still being in the confines of the blues genre. This is not however as prominent as texas blues which contains many other notes such as major 3rd and major 6th.

Another notable point is that Chicago blues contains many dominant 9th chords and the scales usually contain 9th notes. Click here for a list of notable Chicago blues musicians.


           
---
11th Place is: Chicago hot dog



The style, once known as a "Depression sandwich," is generally acknowledged as having originated at Fluky's, a well-known Maxwell Street stand, in 1929.

Chicago-style hot dogs are boiled or steamed to a temperature above 170 degrees Fahrenheit (~77 degrees Celsius) before adding the toppings. They can also be grilled, though these are referred to as "chardogs". The natural casing of the hot dogs give them their distinctive "snap." The most common dog weighs 1/8 lb. and is made with Vienna Beef.

Chicago-style hot dogs with all the toppings are sometimes called "dragged through the garden" because of the unique combination of condiments. Chicagoans traditionally shun ketchup because of the belief that ketchup, unlike other condiments, overwhelms the flavor of the dog itself. (more...)
---
12th Place is: The Chicago theater scene



Theater is the heart and soul of Chicago with The Goodman Theater (Chicago's oldest currently-active nonprofit organization), Steppenwolf (founded in 1974 by Gary Sinise, Terry Kinney and Jeff Perry in the basement of a church) and Second City (an improvisational comedy troupe started in 1959 and is based in the Old Town). If you're in Chicago, you better be in a Theater!

       
---
13th Place is: Lower Wacker Drive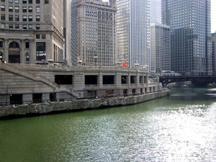 Locals love to surprise their out of town friends with a drive into lower Wacker, a twisting, tunnel-like roadway you'd swear was built for the sole purpose of filming car chases.

And why wouldn't you? Lower Wacker was the scene of one of the great car chases on film: "Officers are in pursuit, a black and white, 1974 Dodge sedan….Occupants of vehicle one 'Joliet' Jake Blues, one Elwood Blues. Consider them extremely dangerous."

John Landis's "The Blues Brothers" set a record in 1980 for movie car crashes. The more recent "Batman Begins" also featured a lower Wacker chase. (more...)
---
14th Place is: Chicago bungalows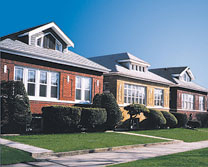 The majority of Chicago Bungalows were built between 1910 and 1940. They were typically constructed from brick (sometimes in decorative patterns) and had one and a half stories. At one point, nearly a third of the houses in the Chicago area were bungalows. One primary difference between the Chicago bungalow and other types is that the gables are parallel to the street, rather than perpendicular. Like many other local homes, Chicago bungalows are relatively narrow,  being an average of 20 feet wide on a standard 25 foot wide city lot.

Chicago made history when the Department of the Interior approved three nominations—the Chicago Bungalow Multiple Property Listing and two distinct bungalow districts—for inclusion on the National Register of Historic Places.

The federal designation not only confirms the historic importance of these unique Chicago homes, but also provides property tax relief for Bungalow owners in the designated districts who spend an amount equal to 25% of their home's value for rehabilitation. (more...)